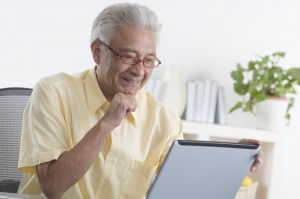 Let the Internet do the Math for You
"Social Security: Maximize Your Benefits" details many online benefit maximization programs. Now there is a new online resource. This week T. R. Price released an easy-to-use online tool to assist you in determining how and when to claim your Social Security retirement benefits. The FREE tool is geared to assist singles and married couples in understanding their options. The online calculator is located at http://individual.troweprice.com/public/Retail/Retirement/Social-Security-Tool?van=socialsecurity.
No registration is needed to take advantage of the free service. Your personal information is not saved on the Web site. Just enter your gender, marital status, and date of birth. Benefits are based on the amount you indicate as your current salary. (Or you can use your actual benefit amount by accessing your personal Social Security Statement at http://www.ssa.gov/myaccount or determine your estimated benefit amount by using the Social Security Estimator at http://www.ssa.gov/estimator.)
The T. Rowe Price Tool makes a few longevity assumptions based on current actuarial guidelines. (At this time the T. Rowe Price online calculator can't accommodate couples with more than a six year age difference.) You can select from seven claiming strategies. Of course, each individual situation has hundreds of possibilities but these are good starting points. Here is a summary of the seven approaches:
What happens when you take benefits at a certain age?
What happens if you take benefits as soon as possible?
What should you do if you want to maximize benefits?
What should you do if you want to maximize income for the years you will have together?
What should you do to minimize the drop in income for the surviving spouse?
What claiming strategy should you use if you want to maximize survivor benefits?
What should you do if you want to retire early and maximize the surviving spouse's benefits?
The T. Row Price online calculator provides colorful graphics and dollar amounts that highlight the benefits and pitfalls of certain decisions. You can print each report and easily run all seven scenarios to see which scenario provides the best results.