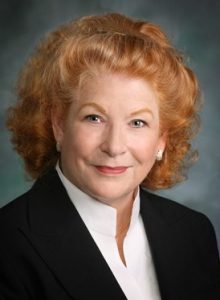 2017's Global Faculty Appreciation and Awards, where UMUC honors faculty for achievements, for years of service, and for the past year's accomplishments.
2017 Faculty Service Awards
This award is for faculty who have served the university with excellence for 5, 10, 15, 20, 25, or 30 years consecutively. Awardees must demonstrate service during the years they have been employed by UMUC with minimal interruption.
Kathleen Sindell, Ph.D. is recognized for five-years of service for the UMUC School of Undergraduate Studies. (From 1989 to 1993 Sindell was the Associate Director of the Finance and Commercial Real Estate Programs for the UMUC Graduate School.)
2017 Tip of the Hat Awards
This award will be given to faculty who promote teaching excellence in their classroom and in the UMUC teaching community.
Kathleen Sindell, Ph.D. has received a 2017 Tip of the Hat Award. Dr. Sindell is the Certified Finanical Planning (CFP) Course Chair for the UMUC CFP Program and assists in directing the delivery of CFP Learning Objectives.
2017 Recognition of Professional Achievement Awards
This award recognizes faculty who have been promoted at work, earned a higher degree, or other professional commendation. These may include faculty who have published/conducted scholarly work in their academic field within the last year (2017 calendar year); an article for a journal; presentation at a professional conference; work on editorial boards; leadership in a professional society; etc.
Kathleen Sindell, Ph.D. has received a 2017 Professional Achievement Award. Among other professional achievements, Dr. Sindell is on the Editorial Advisory Board of the Journal of Financial Planning, a member of the Pro Bono Committee of the National Financial Planning Association (FPA), and received the 2017 FPA National Capital Area (FPA NCA) Norma Severns Leadership Award.