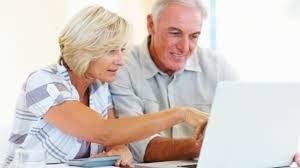 Today is the last day for baby boomers who are at least 66 years old to submit a File-and-Suspend application using the "Old Rules". The Old Rules File-and-Suspend application allows the Social Security number holder to delay collecting their own benefits but permits their spouse (if he or she is at least 62 before January 2, 2016) or young or disabled children to collect benefits on that person's work record while their own benefit is in suspension.
To take advantage of the File-and-Suspend strategy eligible couples (and singles) must file today. Here are the steps to file an online application according to Larry Kotlikoff, a professor of economics at Boston University and a Social Security expert:
1. File online at the Social Security Web site located at www.ssa.gov
2. Fill out the application as if you will immediately claim benefits
3. The application asks "What date should benefits start?" Enter April 2016.
4. Next the online form will ask if you want to delay receipt of retirement benefits and take spousal benefits only. Answer "no". (You are claiming and suspending benefits for yourself.)
5. In the box labeled "Remarks". Enter the following statement, "I want to file for my retirement benefits effective April 2016 and I want to suspend all my retirement benefits effective April 2016".
If you are not the type of person to complete an online form there two alternatives for you. You can apply via telephone or submit a Form 795. According to Mary Beth Franklin of Investment News, telephone waits for the Social Security Administration (800-772-1213) can be an hour or more.
According to Mary Beth Franklin, individuals can file a "Protective Filing Statement using Form 795". Click here to download the form
http://www.compassioninaction.us/product_links/Statement%20of%20Claimant%20SSA-795.pdf
In the space provided write the following, "I intend to File-and-Suspend on my own record by the April 29th deadline. However, I have been having difficulty obtaining an appointment. I would like to file and suspend as soon as an appointment is available." According to Mary Beth Franklin's source this should at least buy you an extra six months to get the actual filing done because you are making you intentions clear prior to the deadline.
What happens if you don't make the deadline? If you voluntarily suspend after the April 29, 2016 deadline and have "auxiliaries" (a spouse, minor dependent children or disabled children) they will not be able to receive benefits during the time period that you have suspended benefits. However, a divorced spouse is an exception and can continue to receive benefits.