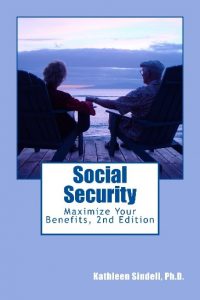 The Association of Accountants and Finance Professionals in Business (IMA) announces that Kathleen Sindell, Ph.D. will be the speaker for the September 21, 2016 Dinner Meeting at the Holiday Inn in Rosslyn, VA.
Topic: Uncover how to adapt to the new Social Security rules. Social Security rules have changed, and it's urgent for you to determine how to maximize your benefits, now. In this Second Edition of "Social Security: Maximize Your Benefits (2nd Edition)" acclaimed financial literacy expert, Kathleen Sindell, Ph.D. brings together the information every holder of a Social Security card needs to know to create a strategy for attaining maximum benefits. What's the best way for you to adapt to the new rules? Discover seven strategies, purchase the book and have it signed.
Meet the author: Kathleen Sindell, Ph.D., CEO, GCSRi Publishing, CFP Chair and Adjunct Full-Professor teaching Wealth Building, Insurance, Investments, Retirement and Estate Planning, and Financial Plan Development.
Author Background: Kathleen Sindell, Ph.D. is the author of numerous academic, popular, and professional finance articles, Web sites, blogs, proposals, and books, including the bestselling reference book, "Investing Online for Dummies, Eds. 1-5″ (listed for two consecutive years on the Wall Street Journal's Bestselling Business Book List). Sindell is a University of Maryland, UMUC Program Course Chair II and Adjunct Full-Professor. Dr. Sindell has held FINRA Series 7, 63 and 65 licenses. Dr. Sindell is certified to teach Business and Industrial Management, Banking and Finance by the California Board of Governors, Certificate #19507 (Valid for life). Kathleen Sindell, Ph.D. is a FPA NCA Board Member and Pro Bono Co-Chair for over five years and Co-Chair of Metro Washington Financial Planning Day (2011, 2014, 2015 and 2016). She is on the Editorial Advisory Board for the Journal of Financial Planning (2015 and 2016). In April 2016 Dr. Sindell released her 13th finance/reference book titled, "Social Security: Maximize Your Benefits (2nd Edition)". Kathleen Sindell presented her paper, "The Reality of Retirement Readiness" at the 2013 Academy of Behavioral Finance Conference, Chicago, IL.
Where:
Holiday Inn Rosslyn
1900 Fort Myer Drive
Arlington, VA 22209
Metro: 1 block downhill from Rosslyn orange/blue line
Parking is Free (in lot or garage)
$30 IMA members and Guests
$15 for students
$35 late RSVP/pay at the door
When:
Wednesday, September 21, 2016
5:00 pm Table Topics**
6:00 pm Registration
6:30 pm Dinner
7:00 pm Program
8:15 pm Adjourn
** Optional 2 CPE
Guests are welcome and encouraged to attend