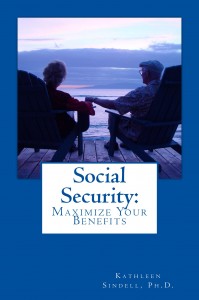 Paperback Book List Price: $11.99
6″ x 9″ (15.24 x 22.86 cm)
Black & White on White paper
136 pages
Kindle Edition: $9.50
ISBN-13: 978-1475089455 ISBN-10: 1475089457
BISAC: Business & Economics / Personal Finance / Retirement Planning
Bestselling Wall Street Journal author Kathleen Sindell, Ph.D. has taught and written about financial management for the last 20 years. Sindell's latest book "Social Security: Maximize Your Benefits" is easy-to-understand and provides "just the facts" about getting the highest retirement benefits possible.
"Social Security: Maximize Your Benefits" offers practical information that allows you to select the optimal claiming strategy that applies to your personal financial circumstances. Based on your age and marital status (single, married, divorced or survivor) follow step-by-step instructions to maximizing your Social Security benefits. You can quickly select what works best for you from dozens of examples, figures, tables, and graphs.
Discover the "right" time to claim Social Security benefits.
Uncover claiming strategies you may not be aware of.
Zero in on the optimal claiming strategy for you and your family.
Become aware of the advantages of claiming spousal benefits.
See how you can boost monthly benefits by using Delayed Retirement Credits (DRCs).
Find out how your family (even dependent parents and grandchildren) can claim survivor benefits.
Determine the impact of early retirement on your financial future.
Avoid benefit claiming mistakes that can cost you thousands of dollars.
Click on the link and get your copy today Maximize Now!  For the Kindle Edition click here!