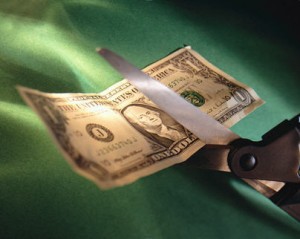 There is a difference between setting a budget and financial planning. Financial planning involves defining your goals and objectives, then "monetizing them". That is, determining how much money you need to earn or save to achieve your goals, and measuring your progress. Budgeting starts by establishing spending targets that help you say within your means of paying all your bills.
Recent statistics indicate that most Americans spend about 10 percent more than they have. This does not mean that Americans are "shopaholics" or deadbeats. In most cases, Americans overspend because they only have a vague idea of where their money goes. How many times have you gone grocery shopping without a budget or spent more than you intended? The following are eight tips for making a budget you can stick with:
1. Don't think of your budget as a way of penny-pinching. Your budget is your spending plan. Your spending plan will instantly indicate how much money you have at any given time. This valuable information allows you to profit from opportunities and react in a positive way to emergencies.
2. Base your budget on getting organized and not "penny-pinching". Organizing and prioritizing spending can show you how you can easily save money without giving up the things you truly feel that you can't live without.
3. Make certain that you include the spending priorities of everyone in your family. For example, you'll have to make adjustments if one person values going out to dinner more than purchasing new clothes. Make an agreement so that you both get some of what you want. If everyone who participates in the budget doesn't support the budget, then the budget will fail.
4. Keep the things you love the most in your budget. For example, let's say you value buying bestselling books over going to the hair salon. Your budget should reflect those values. If you need to cut back, reduce the number of times you go to the hair salon.
5. Don't forget to include savings as a budget category. Without setting aside some savings you may find yourself in difficulties when a "budget buster" happens. It doesn't matter how little or how much you save. You just have to have a savings plan. This way when you need car repairs or the plumber you don't have to rely on a credit card and bust your budget.
6. Keep in mind that your budget is not "etched in stone". Review your budget periodically. Be flexible and make adjustments when the household changes. However, if you don't have enough to pay all the monthly bills, you may need to change the amount in a certain category or trim money from another category.
7. If shortfalls continue then you are overspending. You may have to consider larger financial changes. One example is selling the newer family car and purchasing a used car for cash. This way there are no monthly payments.
8. If you are still have a hard time making ends meet, consider what you are willing to sacrifice. Be honest in your evaluation of the budget. What are the essentials and what are the luxuries? Which luxuries can you forgo for the next six months?
If you follow these eight tips you can create a successful budget your household can live with. Keep in mind, even millionaires have budgets. A carefully constructed budget can allow you to sleep in peace and eliminate many of the household's monetary worries.